Exercise-Induced Collapse (EIC)
Description: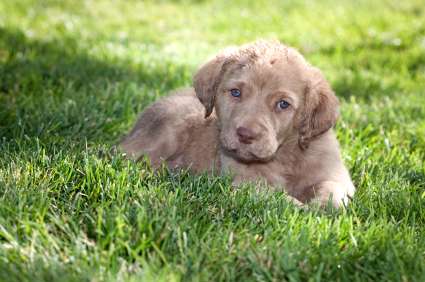 Exercise-Induced Collapse (EIC) is an autosomal recessive genetic disorder causing affected dogs to suffer from a loss of muscle control following periods of extreme exercise. Typically, an affected dog begins to show symptoms between 5 months and 3 years of age, usually around the age that more intensive training begins.
EIC episodes generally occur after 5-25 minutes of extreme exercise. Not all types of exercise can induce an attack; generally the dog must be actively running and excited for an extended period of time. The attacks often begin with rocking, followed by the hind limbs becoming weak and giving out. The severity of these attacks ranges between different dogs; some will continue to attempt to retrieve, dragging their hind legs along, and other will be totally unable to move, acting disoriented. These attacks usually only last about 5-25 minutes, however, in some extreme cases, dogs have died immediately following an EIC attack.
Dogs with Exercise-Induced Collapse can still lead full lives. However, it is important for dog owners to be familiar with what types of activities a dog can participate in and what types of games may trigger an episode.
Because EIC is a recessive disorder, a dog must have two copies of the mutation in order for the disease to manifest. This means that a dog can have one copy of the mutation and not experience any signs or symptoms of EIC; this dog would be known as a carrier. The carrier can then pass on either the normal gene or the mutated gene to any offspring. If two carriers are bred, a dog could potentially receive the mutated gene from each parent and be affected by EIC.
Sample Type:
Animal Genetics accepts buccal swab, blood, and dewclaw samples for testing. Sample collection kits are available and can be ordered at test now.
Test Is Relevant To The Following Breeds:
Boykin Spaniel, Chesapeake Bay Retriever, Curly-Coated Retriever, German Wirehaired Pointer, Labrador Retriever, Pembroke Welsh Corgi.
Results:
Animal Genetics offers DNA testing for exercise-induced collapse (EIC). The genetic test verifies the presence of the recessive EIC Gene and presents results as one of the following:
| | | |
| --- | --- | --- |
| EIC/EIC | Affected | The dog carries two copies of the mutant gene and is homozygous for EIC. This dog will be affected and will always pass on the defective gene to it's offspring. |
| EIC/n | Carrier | Both the normal and mutant copies of the gene detected. Dog is a carrier for the EIC mutation and can pass on a copy of the defective gene to its offspring 50% of the time. |
| n/n | Clear | Dog tested negative for the EIC gene mutation and will not pass on the defective gene to its offspring. |
Submit a Sample For Testing:

To submit a sample for testing please go to test now.

To order a sample collection kit please go to order sample collection kits.

Cost per sample is $45.00. Please see our fee schedules below for combination rates.